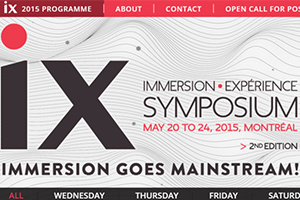 Mike Phillips presents i-DAT's Operating Systems, focusing on the emergence of the Fulldome version of the Urban API.
Saturday 23 May – 14:15
DATA SPACES
http://ix.sat.qc.ca/node/383?language=en
Series of 4 demos-workshops around current practices and experimentation about immersion in the data spaces :
PRESENTATIONS LINE-UP
FÉLIX PHARAND-DESCHÊNES (CA)
SCIENTIFIC VISUALISATION
MARKO RITTER (DE)
MOUVEMENT OF THE POINT OF IMMERSION
MIKE PHILLIPS (UK)
DATA VISUALISATION
SÉBASTIEN GRAVEL (CA)
IMMERSIVE STREET VIEW
Happiness lies somewhere at the end of a bell curve…
This is a presentation/demo of instruments, analytical tools and art works that have emerged through a series of 'Operating Systems' (op-sy.com) that have been cultivated at i-DAT (www.i-dat.org) over the last decade to explore techniques for harvesting and analysing data from a variety of contexts. They employ a range of digital processes coupled with ethnographic practices that can be described as a "techno-ethnography'.
Like a matryoshka doll, these Operating Systems recursively collapse in on themselves. Somewhere the body sits (a body that is neither ill or super fit, simultaneously an individual and a crowd) located in a physical architecture (software for buildings) framed by a Social network (where happiness lies somewhere at the end of a bell curve and true love can be found in a slice of pie chart) and all sitting snugly within a complex ecology (harvested environmental data to bring the landscape a little closer). Some of these things also find their way into Fulldome spaces…