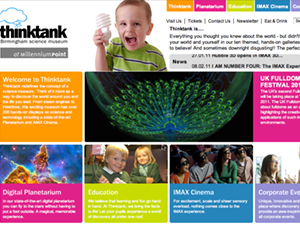 Following on from the success of the Fulldome UK 2010 held at the Immersive Vision Theatre, we are delighted to announce our second Fulldome festival, FULLDOME UK 2011, will be taking place on Saturday 12th and Sunday 13th March 2011, at Thinktank Science Museum, Birmingham.
FULLDOME UK 2011 is a celebration of the Fulldome experience. The two-day conference and festival will be packed with screenings, presentations and discussions, and will feature some exclusive real-time live audiovisual performances. The event will focus on the use of Fulldome as an artistic medium and will look to highlight the more creative and experimental applications of Fulldome immersive environments, beyond the realm of astronomy education most commonly associated with digital planetariums today.
A series of workshops by Fulldome artists will provide an insight in to the processes and challenges of Fulldome content production, both conceptual and technical, whether one is producing live-action or Computer Generated Imagery. We will also look at developments in the various fields of real-time interactive Fulldome content, which include gaming, data visualisation and VJ-ing.
The aim of this event is to showcase the best examples of contemporary Fulldome practice, and ultimately inspire more people to produce new works for the medium, some of which can hopefully be screened at FULLDOME UK 2012!
The event will take place at Thinktank Planetarium, which forms part of Thinktank Science Museum and is the UK's first purpose-built digital planetarium, currently one of the top ten busiest small domes in the world (and the most progressive planetarium in the UK!).