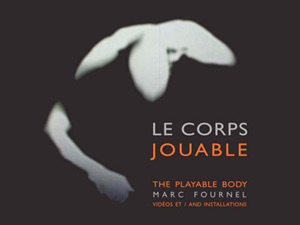 DAGAFO and [Séquence] are pleased anounce the launch of The Playable Body, Marc Fournel, videos and installations at OBORO on March 26, 2010 from 5 to 7 pm, 2001 rue Berri, Montréal.
The Playable Body, Marc Fournel, videos and installations is a publication about the artistic work of Marc Fournel from 1995 to 2009 that comprises texts in English and French by authors Fabrice Montal, Caroline Seck Langill, Jean Gagnon, and Mike Phillips. The monograph also includes a short text by the artist about the enigmatic titles of his works. The hardcover book is illustrated with color photos.
The Gallery [Séquence] in Chicoutimi and DAGAFO have collaborated for this publication. Volumes, essays, and critical articles on works of contemporary Quebecer artists whose approach is based on new media are rare. This edition makes us discover a particular figure in the landscape of media art, while at the same time contributing to the necessary documentation of these artistic practices.
Marc Fournel, after some videographic productions between 1995 and 1998, begins to more systematically explore the application of informatics and softwares, particularly open-source softwares. Since 2004, he has devoted himself full-time to his artistic research, which has allowed him to produce a number of works, but also to develop his informatics tools and instruments. His artistic work has been presented nationally and internationally, notably at OBORO in Montreal, [Séquence] in Chicoutimi, Interacess in Toronto, at the International Festival of Video Art of Casablanca, at L'IRCAM in Paris, and at the Foundation Telefonica in Buenos Aires.
DAGAFO is a non-profit organization founded in Montreal in 2007 by Ricardo Dal Farra, Jean Gagnon, and Marc Fournel. DAGAFO supports, develops, and produces projects—by means of exhibitions and publications —that foster cultural exchange and relations on a national or international level. DAGAFO thanks [Séquence], Chicoutimi (QC) and i-DAT, Faculty of Technology, University of Plymouth (UK) for their collaboration in this publication, as well as the Canada Counsel for the Arts for its financial support.
[Séquence] is an important regional center in Saguenay for the production and presentation as well as the development of media art and new media in Quebec. The center's implication in the development of international relations has allowed it to put in place a strong network of exchange, presentation, and production of media art works. [Séquence] would like to thank: DAFAGO, the Conseil des arts et des lettres du Québec, the Conseil des Arts de Saguenay, and the city of Saguenay.
Available after book launch through the website of RCAAQ:
http://rcaaq.org/librairie/