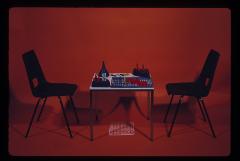 The Syncretic Sense
Roy Ascott
4 April 24 May 2009
The first UK retrospective exhibition of the pioneering cybernetic artist Roy Ascott, curated in collaboration Paula Orrell at Plymouth Art Centre and i-DAT (Institute for Digital Art and Technology, University of Plymouth).
http://www.plymouthartscentre.org/art/future.html
Long before email and the internet, Roy Ascott started using online computer networks as an art medium and coined the term telematic art. Since the 1960s he has been a pioneer of art, which brought together the science of cybernetics with elements of Dada, Surrealism, Fluxus and Pop Art. Parallel to his artwork, Roy Ascott is a highly acclaimed teacher and theorist of art pedagogy.
This exhibition explores the influences and rhetoric of Roy Ascott's work, mapping the impact, history and development of technology and looking to the future of Web2 and Second life. Roy Ascott sees telematic art as the transformation of the viewer into an active participant in creating the artwork, which remains in process throughout its duration. Significantly, the content of his projects were often spiritual: staging the first planetary casting of the I Ching with an early form of network in 1982; whilst his major installation at the Ars Electronica centre in 1989 explored Gaia theory.
The exhibition also looks back at the impact of Roy Ascott's experimental years of art education. In the 1960s Roy Ascott was the head of Groundcourse at Ealing College of Art and developed one of the most influential and unorthodox approaches to teaching foundation studies in art. The basis of the course was developed around cybernetic theories of systems of communication: the flow of information, interactive exchange, feedback, participation and systemic relationship.
Roy Ascott studied under Victor Pasmore and Richard Hamilton at King's College, Newcastle, University of Durham. His exhibitions include Venice Biennale, Ars Electronica Linz and Biennale do Mercosul, Brazil. He was President of the Ontario College of Art and Dean of San Francisco Art Institute. He is President of the Planetary Collegium, an international research network based in the University of Plymouth www.planetary-collegium.net
Press enquiries: Contact Hannah Prothero
Marketing & Communications Manager
Phone: 01752 276993
Email: hannah at plymouthartscentre dot org
Image: Roy Ascott, Plastic Transactions, 1970