i-DAT has developed an enhanced technological infrastructure and a comprehensive 'ToolBox' to support creative production and consumption. The i-DAT ToolBox enables collaborative art & design projects, residencies and workshops as well as critical applied research. The i-DAT ToolBox includes:
………………………………………………………………………………………….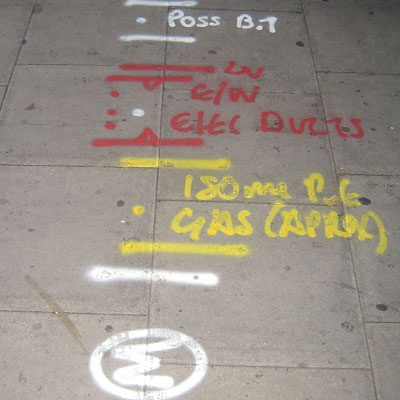 Web technologies:
i-DAT operates several dedicated multiplatform web services providing server space for projects (eg: Projecting Plymouth, The Silence of the Lands, etc), collaborative online publishing tools (eg: Performance Research Journal) and Web 2.0 environments (Cornwallculture, The Songrooms).
These web technologies are supported by The 'LiquidPress' research and production facility. The LiquidPress responds to the changing world of publishing as it moves from paper/TV/WWW/CD to digital generative media forms, and from fixed/passive to live, dynamic, active and locative media. The development of 'liquid' content has evolved through a series of integrated publishing/broadcasting experiments explored the integration of print, internet/world wide web and interactive satellite transmissions. i-DAT's web technologies are augmented by a number of locative and mobile media technologies.
………………………………………………………………………………………….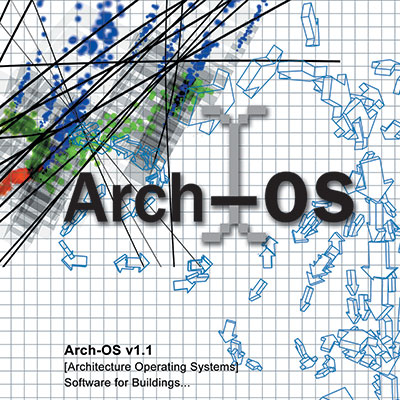 Arch-OS:
Arch-OS represents an evolution in intelligent architecture, interactive art and ubiquitous computing. An 'Operating System' for contemporary architecture (Arch-OS, 'software for buildings') has been developed to manifest the life of a building and provide artists, engineers and scientists with a unique environment for developing transdisciplinary work and new public art. The Arch-OS experience combines a rich mix of the physical and virtual by incorporating the technology of 'smart' buildings into new dynamic virtual architectures.
Arch-OS is an open system that can be reconfigured to allow artists, engineers and scientists to create new work from the streams of data that feeds the Core system. New work is enabled through audio-visual manifestations of the dynamic data processed by the Arch-OS Core. The Projects component of Arch-OS are curated by i-DAT as an ongoing programme of cultural events, musical performances, installations and art exhibitions which take advantage of the unique digital opportunities presented by the building and its interactive multi-media resources. These projects range from new commissioned works to prototypes for larger research projects.
http://www.arch-os.com/
………………………………………………………………………………………….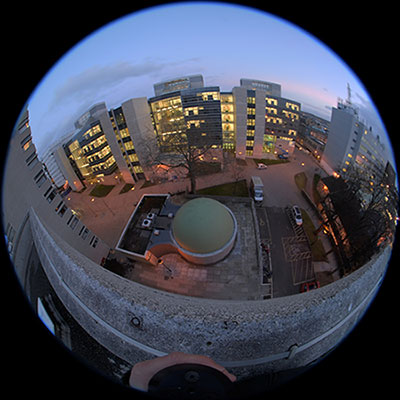 Immersive Vision Theatre (Full Dome):
i-DAT has been working on the development of the Immersive Vision Theatre with the Experiential Learning CETL (Centre for Excellence in Teaching and Learning). The University of Plymouth's old William Day Planetarium (built in 1967) is reborn as a 40 seat Immersive Vision Theatre (IVT), a transdisciplinary instrument for the manifestation of material, immaterial and imaginary worlds.
The 'Full Dome' architecture now houses a powerful high-resolution projector fitted with a 'fish eye' lens to wrap data, models, video and images around its inner surface. A second, even higher resolution ultra-high contrast projector focuses an intensely detailed cutaway. The 10 speaker spatialised audio system enables the modeling of acoustic environments as well as playback through virtual speakers, ie more speakers than physically exist. The IVT is being used for a range of activities, from cross disciplinary teaching to cutting edge research in modelling and visualisation.
The full dome is augmented by a 5meter portable/inflatable Go Dome with a HL-X2 projector which is used for outreach programmes, exhibitions and site specific experiments. The IVT is also developing a residency and commissioning programme for artists from a range of backgrounds.
The IVT was brought to life by the Experiential Learning CETL (Centre for Excellence in Teaching and Learning), one of four CETL's awarded to the University of Plymouth. The future management of the Dome will be through the Centre for Creative Design and Technology, a cross faculty (Arts & Technology) initiative and a transdisciplinary catalyst for innovation to influence the evolution of new creative design practices and strategies.
The IVT facilitates access to an international network of immersive research including:
http://www.elumenati.com/
http://www.globalimmersion.com/
http://www.seos.com
………………………………………………………………………………………….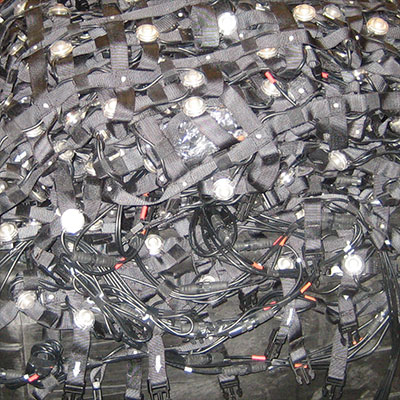 Green Screen:
The Green Screen is a tool for the strategic delivery of the University of Plymouth Sustainable Futures agenda. Funded by the Centre for Sustainable Futures (CSF) CETL (Centre for Excellence in Teaching and Learning), managed by i-DAT, with technical consultancy provided by Pyramid, the Green Screen is a large LED matrix screen that fills the top 3 floors of the windows of Atrium A of the Portland Square building, i-DAT's headquarters.
Originally tested using the award winning Noogy.org project, this 10m x 5m low resolution screen provides a unique resource for a public engagement and artistic development with ecological and sustainable issues through the construction and presentation of dynamic information and content. The system is publicly interactive through mobile phones and web access and will be able to show a wide variety of movies, messages and graphics.
………………………………………………………………………………………….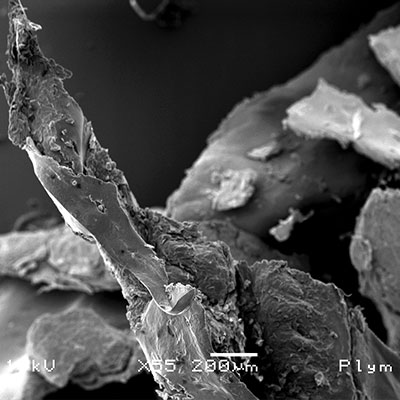 Fabrication:
i-DAT also works collaboratively with researchers across he University of Plymouth and facilitates access to a broad range of technologies and processes, such as robotics, nano technologies, rapid prototyping and imaging technologies (Scanning Electron and Atomic Force Microscopy).