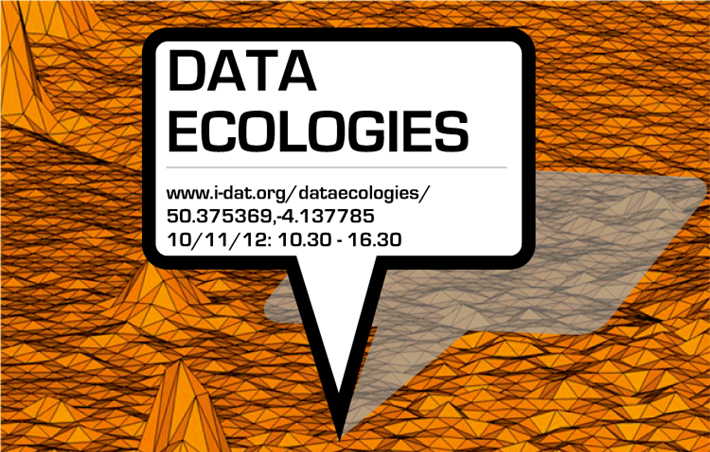 Saturday 10 November10.30 am – 4.30pm
Devonport Lecture Theatre, Portland Square Building, Plymouth University,Plymouth PL48AA
…………………………………………………………………………………………………………………………………………………

DATA ECOLOGIES:
A symposium that invites creatives, academics, scientists, technologists and all interested parties to share 'instruments' or provocative prototypes and practises that, through the use of data, enhance our understanding of the world and our impact on it, defining a range of trans-disciplinary strategies and projects to manifest complex ecologies – to make the invisible visible.The Lab sets out to be a catalyst for creative experimentation and invites leading artists, scientists and technologists to share 'instruments' or provocative prototypes and practises that, through the use of data, enhance our understanding of the world and our impact on it.DATA ECOLOGIES will explore a variety of approaches for harvesting environmental data and a range of design strategies and media forms that can be used to visualise and sonify it. The symposium consists of invited speakers and case studies followed by 'hands-on' Hardware + Software and Data Visualisation Labs which demonstrate viable solutions for creative and enviromental practice
………………………………………………………………………………………………………………………………………………….
REGISTRATION:
Conference fee of £25 (concessionary rate £15) covers tea/coffee and lunch.
Bursaries are available for students, teachers and artists, to enquire please email: baga@plymouth.ac.uk

TO BOOK,  please click HERE
DOWNLOAD THE DATA ECOLOGIES PDF FLYER
.…………………………………………………………………………………………………………………………………………………
Presenters and demonstrators:
Alice Sharp, Curator and Director, Invisible Dust
Andrew Bell, North Devon Biosphere.
Antony Lyons, Artist/ Ecological Designer/ Environmental Geo-ScientistLuis Girao, Artshare, Portugal
David McConville, (telematic FullDome Presentation) Elumenati
Mike Phillips, i-DAT
Mark Wallace, Beaford Arts
Pierre Vella, Creative Technologist, Invisible Dust
Simon Blackmore, Artist, Owl Project
Simon Lock, i-DAT
Will Stahl-Timmins, Associate Research Fellow, European Centre for Environment and Human Health, University of Exeter Medical School

…………………………………………………………………………………………………………………………………………………
Timetable: (the schedule of presenters will be regularly updated).
Registration:
…………………………………………………………………….. 
10.00
Symposium:
Introduction to Data Ecologies: Mike Phillips      
Art and the environment: Mark Wallace       
Visualising Data: Will Stahl-Timmins

Project 1 – Confluence: Antony Lyons & Andy Bell
Project 2 – Invisible Dust: Alice Sharp & Pierre Vella
Project 3 – Owl Project: Simon Blackmore
…………………………………………………………………..
10.30
10.45
10.5511.15
11.50
12.25
 Lunch:
……………………………………………………………………..
 13.00…
 LAB (demo and sharing of solutions and practice):
…………………………………………………………………….. 
 13.30-15.00
 Lab 1: Hardware & Software:
The Lab will introduce, demystify and make accessible aspects of:

the use of open source hardware and software to build environmental monitoring
and remote, networked sensing devices (xbee, arduino, sensors, mobile phones,
tablets and computers)
the use of software for data capture and broadcasting through the internet
(processing, HTML, RSS, databases)
integration of data harvested from the environment into platforms such as
Google maps and other API's.

The Lab will take place in one of i-DAT's Digital Studios in the Babbage Building.


13.30-15.00

 Lab 2: Data Visualisations/ Visualising complex data:
The Lab will provide a range of solutions for visualising data such as:

FullDome environments
integration of data harvested from the environment into Game Engines
Video capture and image manipulation.
Sonification of data

The Lab will take place in the Immersive Vision Theatre.
……………………………………………………………………..

13.30-15.00
 Panel discussion:
…………………………………………………………………….. 
15.20-16.00
 Summing up:
…………………………………………………………………….. 
 16.15
 Close:

 16.30
 …………………………………………………………………………………………………………………………………………………Location:
View Larger Map…………………………………………………………………………………………………………………………………………………
Data Ecologies is part of the Confluence Project (eco-os.org/projects/confluence/)a cross disciplinary initiative made possible by the unique partnership of i-DAT, The North Devon Biosphere Foundation, Beaford Arts and Appledore Arts.
PROJECT INFORMATION
Data Ecologies is part of a series of activities developed around the Confluence Project. Confluence is a flagship project designed to act as an exemplar of high quality artistic and scientific practice, supporting and informing visual arts practice within a rural and environmental context. Offering an innovative way to explore the participants' impact on their local environment, the project holds the potential to change behaviour of the groups and communities who take part.
Confluence is a cross disciplinary initiative bringing the arts, environment, technology and science together in an innovative and collaborative project.  At the heart of the project is the aspiration to create new work that responds to the connections that exist between the environment of the Biosphere Reserve and the people that work, play and live in there; exploring its history and the issues it faces now and will face in the future.
Confluence combined art, science and technology to take a look 'behind the scenes' of the Biosphere. Live online environmental data was collected from locations along the River Torridge, using remote sensors called Ecoids. The four project artists have used the data streaming from these to create new hybrid artworks, as well as working with eight schools and communities along the river to visualise aspects of their local environments.
This cutting edge project has all been made possible by the unique partnership of i-DAT, The North Devon Biosphere Foundation, Beaford Arts and Appledore Arts.
i-DAT has  developed cutting edge technology – ECOIDS, small networked sensor devices, which collect live online digital data.  These ECOIDS have been used in urban and indoor environments. 'Confluence' is the first project of this scale where these innovative technologies of data capture and visualization have been used in across rural environments and communities.The project is framed within the ethos of the North Devon UNESCO Biosphere Reserve as a 'living laboratories' for testing out and demonstrating sustainable development on a regional scale.
North Devon has always been one of the finest unspoilt locations in the UK and is now home to Britain's first new style world class UNESCO Biosphere Reserve, where conservation and sustainable development go hand in hand.