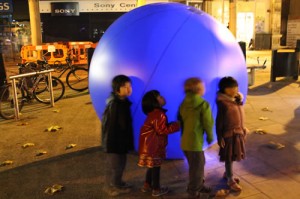 i-DAT's Art Producer Mike Blow will be installing a sound-light piece at Oxford University this month.
Mike's piece POD, in collaboration with artist Alison Ballard, is a tactile sound sculpture using loudspeakers placed inside giant inflatables.
Using the audio phenomenon of beats, the speakers hum and vibrate with pulsing low-frequency sound. Audience members are encouraged to place hands and ears on the inflatable to feel and hear the sounds coming from within.
Said Mike: "POD uses audio to bring a new meaning and potential to inanimate objects. The sound changes our peception of the objects by creating a new hybrid audio/physical artifact."
Alison Ballard works across disciplines to examine our perceptions and experiences of sound, space and the moving image, investigating psychoacoustics, neurology and infrasound.
POD will be part of the Oxford Light Night, at the Oxford University Faculty of History, George St, Oxford, OX1 2RL. It has previously been exhibited at the Whitley Arts Festival in Reading and at The Barbican Centre, London.
The piece will be on show from 4.30pm to 10.30pm on November 21 and 22.
More of Mike's work featured last year in an edition of the Leonardo Music Journal. His paper Solar Work #2: A Solar-Powered Sound Artwork, described the concept and realisation of an outdoor, solar-powered sound artwork that responds to the sun, creating a field of small sounds and drawing visitors into the physical and sonic landscape.