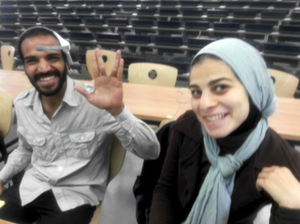 MONDAY 1 TO TUESDAY 2 APRIL 2013 FROM 10:00 AM TO 4:00 PM.
GERMAN UNIVERSITY IN CAIRO (GUC). NEW CAIRO, TALAAT HARB MAIN STREET
www.guc.edu.eg
The Sensorama Workshop builds on i-DAT's experience developing a range of 'Operating Systems' to dynamically manifest 'data' as experience in order to enhance perspectives on a complex world. The Operating Systems project explores data as an abstract and invisible material that generates a dynamic mirror image of our biological, ecological and social activities.