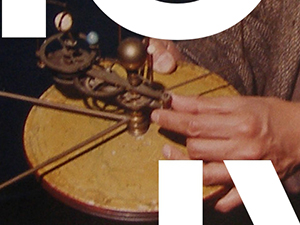 'A HERMIT'S MOVIE IV: IN TREES'
A performance by Barry Sykes.
Friday, 25 November 2011 at 18:00
Immersive Vision Theatre [http://goo.gl/VVDUM],
Plymouth University,
Plymouth, Devon, PL48AA.
Barry Sykes stages an updated version of his ambitious performance lecture written for and about The Immersive Vision Theatre, Plymouth University's 1967 concrete planetarium, now repurposed by i-DAT to present state-of-the-art immersive visualisations.
The event is free, to book please go to: http://barrysykesatidat.eventbrite.com
Constantly surprising and entertaining, this sprawling multimedia monologue invokes astronomy, astrology, error, understanding, karaoke, Van Gogh, Versailles, An elm tree, and the mechanics of comedy and cinema. Originally written and performed whilst Sykes was artist in residence at Plymouth Arts Centre in 2010/11 he has been invited to present it again as a Constellation event alongside the British Art Show 7.
This event also offers an opportunity to gain access to the Immersive Vision Theatre's 40 seat auditorium.
Supported and developed by i-DAT, Commissioned by Plymouth Arts Centre.
"Barry Sykes's life as an artist has taken him down some offbeat, and perhaps not strictly legal, avenues. His artworks-cum-social experiments include impersonating a part-time police community support officer and replicating/ripping off work by such strange bedfellows as romantic minimalist Cerith Wyn Evans and painter Karel Appel. He's even got his dad to realise work for him, as with a series of photos carried out according to his instructions. Trust, originality and morality rank among this trickster's quarry, in projects that unpick what goes on behind the scenes in art."
(Skye Sherwin, The Guardian, January 2011)
Biography
Barry Sykes (1976 Lives and works in London) has a diverse practice involving sculpture, drawing, photography, video and performance. Recent solo exhibitions include 'I Am Not him And I Do Not Have Your Pen' Late at Tate, Tate St Ives, 2011; 'Recreate A Nervy Pistol (An Early Retrospective), Plymouth Arts Centre, 2011; 'The Desperate Designer', Gallop, London, 2009; 'I Was Born On The Day Heidegger Died (But I Don't Know Much About His Work)', i-cabin, London, 2008. He has been in recent group shows at Tate Modern, London; ArtSway, New Forest; Project Space 11, Plymouth; UCL, London and Goldsmith's College, London. He has recently delivered talks and performances at Tate St Ives, Tate Modern and Spike Island, Bristol and The University of the Arts. London.